CORONAVIRUS (COVID-19) JA RESORT UPDATE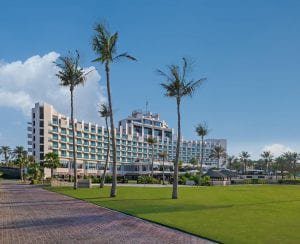 Arrival
* No valet parking available; guests to park their own cars
* Buggy service available from the car park and around the resort (1 family per buggy)
* Guests to bring their own towels / beach towels from their room
* Arrival safety pack given to every guest at check-in, containing hand sanitiser, wipes and masks
* Please note: guests must always wear masks while moving around the resort in all public areas
Covid-19 Testing Service
* Inform the reception of your testing requirement during your stay
* Documents required: Passport or Emirates ID copy, contact number, e-mail address, home address, occupation
* Test needs to be booked 4 days prior to departure date at agreed time between 9am-9pm
* Cost per test is AED250 inclusive of fees and payable to GMC Clinics
* Test result time is 24 hours and will be delivered the following day before 3pm or 6pm depending on sample collection time
Food & Beverage
* Captain's Restaurant: serving lunch 12.00hrs – 18.00hrs (daily, 7 days per week) snack menu – 17.00hrs – 19.00hrs (on Friday & Saturday)
* White Orchid Restaurant: serving a la carte breakfast and dinner 06:30hrs – 11:00hrs ; 18.30hrs – 23.00hrs (6 days per week)
* Sports Café: serving an all-day a la carte menu 06.00hrs – 21.00hrs (7 days per week)
* Ellora by Vikas Khanna serving dinner 18:30hrs – 23:00hrs (Thursday –Saturday) (6 days a week)
* Ibn Majed serving breakfast and dinner 07:00hrs -11:00hrs ; 18:30hrs – 23:00hrs (6 days a week)
* Vasco Da Gama serving drinks 18:00hrs – 01:00hrs (4 days a week)
* Sette serving drinks & dinner 18:30hrs – 23:00hrs (6 days a week)
*
* Please note: alcohol service is available via Room Service and in outlets when seated at tables
Calm Spa
* Open from 10:00hrs -19:00hrs
* Advance bookings only (no walk-ins)
* Guests must be over 16 years of age
* Wet-spa facilities not available
JA Kids Club
* Open from 10.00hrs to 13.00hrs; 15.00hrs to 18.00hrs
* Children aged 4 to 12 years
* Max 16 children allowed in Kids Club per session
* No access to the rest of the Kids Club by parents/adults and their stay inside the facility should be limited to a maximum of 10 minutes
* Children will remove shoes outside of Kids Club –strictly follow hands wash protocol & feet will be sprayed with sanitizer
* Children below 6 are exempted from wearing masks or any face coverings
* Parents/guardian are encouraged to check their children temperature and notice any symptoms before admitting their children in to the Kids Club. If child is unwell, the parent is requested not to drop off the child to the Kids Club as they won't be permitted to enter the Kids Club
* Mandatory contactless screening for all visitors temperature – temperature range must meet the government parameters
JA The Resort Golf Course
* Open from 06.30hrs to 19.45hrs (first tee-time 06.30hrs / last tee-time 17.00hrs)
* Members/ package holders, in-house guests, EGF members and pre-booked green fee guests
* Advance bookings only (no walk-ins)
* Players must be over 12 years of age
* Maximum 3 players per tee time (each player in a separate golf cart)
* Oasis Lodge open from 06:30hrs to 17.30hrs (daily, 7 days per week)
* Driving Range open from 06:00hrs to 19:45hrs
* Par-Three Course open – Sunday & Thursday only – 18.00hrs to 19.45hrs
* David Leadbetter Academy, limited operation, advance bookings only (group bookings up to 5 people permitted)
Private Beach & Pools
* Open from 09.00hrs to 19:00hrs
* Existing members and in-house guests only
* Guests to bring their own towels / beach towels from their room
* Every guest must sign in at the beach and pool area
* Regular temperature checks will be conducted
* Outdoor showers and Indoor changing room facilities available
JA Equestrian Centre
* Horse riding lessons available from 07:00hrs to 10:00hrs
* Open to ages 12 yrs and above
* Open from 06.00hrs – 11.00hrs ; 16.00hrs – 19.00hrs
* Members/ package holders and in-house guests only
* Swimming with horses and resort pony rides available, advance bookings required
* Stables Coffee Stop: serving refreshments & snacks 08:00hrs – 10:00hrs ; 16:00hrs – 18:00hrs
JA Shooting Club & Sports Centre
* Open from 13:00hrs – 21:00hrs (closed Tuesday)
* Indoor pistol and outdoor ranges are open
* Maximum 4 ranges used at any one-time
* Wet-spa facilities not available
* Archery available upon request only
* Guests must be over 13 years of age
* Shooters Restaurant, serving hot & cold beverages only available from 13.00hrs to 21:00hrs (closed Tuesday)
* Academy training and activities only
* Guests must be over 12 years of age
* Maximum training attendees 5 plus coach
JA Marina
* Open from 07:00hrs to 18:00hrs
* Marina Office operational from 07:00hrs to 15:00hrs (daily, 7 days per week)
* Vessels movements are permitted with advance permit
* JA fishing and boat trips not available
Club Jumana Gymnasium
* Open from 07.00hrs to 19.00hrs
* Members/package holders and in-house guests only
* Guests must register at Club Jumana desk to receive a towel
* Guests must be over 16 years of age and under 60 years of age
* Gymnasium, Squash Court & Indoor Badminton
* Subject to availability at the time of arrival
* Maximum number of attendees in the gymnasium at any time is 8 people
JA Tennis Court
* Open from 07.00hrs to 19.00hrs
* Existing members/ package holders and in-house guests only
* Advance bookings only (no walk-ins)
* Maximum 2 players per court
* Players must be over 12 years of age
* Tennis lessons from 15.00hrs to 22.00hrs
Meetings & Events
* Social distancing practices will be applied as per guidelines and venues and room setup will be configured accordingly
* Every guest must be temperature checked
* Attendees tracing will be implemented
* Venues will be completely sanitized before each event/meeting and sealed
* Sanitized meeting items will be clearly labelled
* Multiple food & beverage service offerings and solutions available in accordance with the authorities' guidelines
Note:
* Upon entry at any of the three gate houses (Main Gate, Club Jumana Gate and JA Shooting Club Gate), guests' temperatures will be checked and upon arriving at their desired location/ experience a temperature record will also be done, to ensure the safety of both our guests and associates.
* Please note that any F&B outlet, facilities and experiences not listed remain closed and we await further updates from the relevant authorities.
* This list can change at a moments notice and JA Resorts Holidays can not be held responsible for the change in facilities and experiences. Please check before travel.
The above is ever changing and an up to date as of 1st Nov 2020. For any further updates please visit https://www.jaresortshotels.com/ja-the-resort-guest-notice  
COVID-19 TESTING SERVICE:
JA The Resort are pleased to inform you that, supported by GMC Clinics, provides Covid-19 PCR testing services.
The testing sample collection process is as follows:
1- Inform the reception of your testing requirement during your stay
2- Provide following documents: Passport or Emirates ID copy Contact number – E-mail address – Home address – Occupation
3- Test will need to be booked 4 days prior to departure date at an agreed time between 9am and 9pm
4- Cost per test is AED 250 inclusive of all fees and payable to GMC clinics
5- Test result time is 24 hours and will be delivered the following day before 3pm or 6 pm depending on sample collection time.
The above should be organised directly with the hotel when in resort. Please kindly contact your hotel reception for further details and bookings.
The above is ever changing and an up to date as of 11th Jan 2020. For any further updates please visit https://www.jaresortshotels.com/ja-the-resort-guest-notice